Event Space - Holiday Inn Express and Conference Center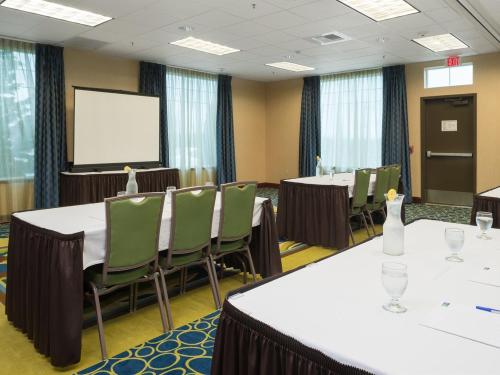 Book your next gathering with us! Our 250 seat conference center is a flexible space designed for business meetings, weddings and reunions, while our two board rooms are perfect for smaller groups and the roof-top garden ideal for entertaining. The Holiday Inn Express Suites of Sequim (pronounced skwim) is just two hours from downtown Seattle, but a world away on the beautiful Olympic Peninsula. The property is a unique combination of Holiday Inn Express brand as well as a 2,600 square foot conference center
Our experienced staff will offer you concierge-level customer service. With our larger quieter rooms, one-bedroom suites, an extra-large indoor pool and spa, generous fitness center and the Holiday Inn Express's trademark hot breakfast bar, our hotel provides a memorable experience and more value than you might expect.
Weddings, Reunions and Much More!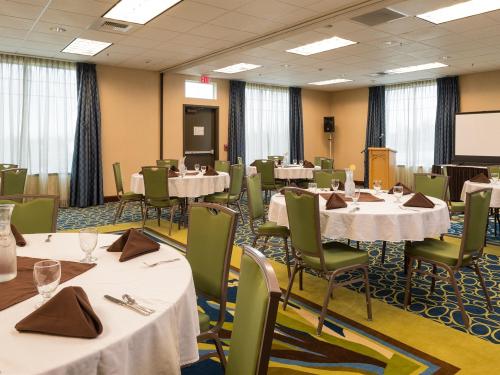 The new Holiday Inn Express Suites of Sequim offers our business clients an ideal location for conferences, workshops, training sessions or retreats. Our ballroom seats up to 250 or can be divided into as many as four meeting rooms with full audio-visual capabilities. Our two board rooms each seat eight. We offer free high-speed wireless service throughout and a 24-hour business center.
Considering a wedding or reunion? We offer flexible space, plenty of suites and rooms with pass-through doors for big families and care providers. Nestled in rural Sequim farmlands, and with incredible views of the Olympic Mountains from our rooftop garden pavilion, it will seem like you've left your busy world behind.
We are the gateway to the Olympic National Park, a World Heritage Site, and a home-base for exploring the settings from the best, selling "Twilight" novels. We offer activities such golf, kayaking, hiking, fishing and beach combing. With the endless beauty of the Olympic Mountains as a backdrop, the new Holiday Inn Express Suites & Conference Center is a wonderful hotel that offers the Puget Sound Region the best value for business.
Click the image to the left to view an enlarged version of our meeting spaces, and their capabilities.